Dual Action Semi-Rotary Hand Wing Pump
THE ITALIAN MADE EXCELSIOR E 2 SEMI ROTARY HAND WING PUMP, A PREMIUM QUALITY REPLACEMENT FOR THE SIGMA K2.
ALSO, CHECK OUT THE OASIS WP2P AS AN ALTERNATIVE.
"For numerous industrial, marine and domestic applications, an EXCELSIOR hand pump is a great solution."
"Proven Technology" Used extensively in Europe today.
The ultimate hand-operated water pump for areas without electricity.
Dual Action Semi-Rotary Hand Wing Pump
The simple robust design using quality materials and workmanship guarantees a long and effective service life.
The body is cast iron, the wing with valve set, and the vee valve are brass and the shaft is steel.
OPERATION:
The handle moves back and forth in a 90 degree arc, which in turn causes the wing with valve set (30) to semi-rotate within the body.
The vee valve (31) operates as the inlet check valve.
The unit discharges fluid on both strokes of the handle.
It must be bolted to a strong vertical surface with the inlet at the bottom or to either side - two mounting lugs are provided.
The handle can be installed either pointing up, down, left or right.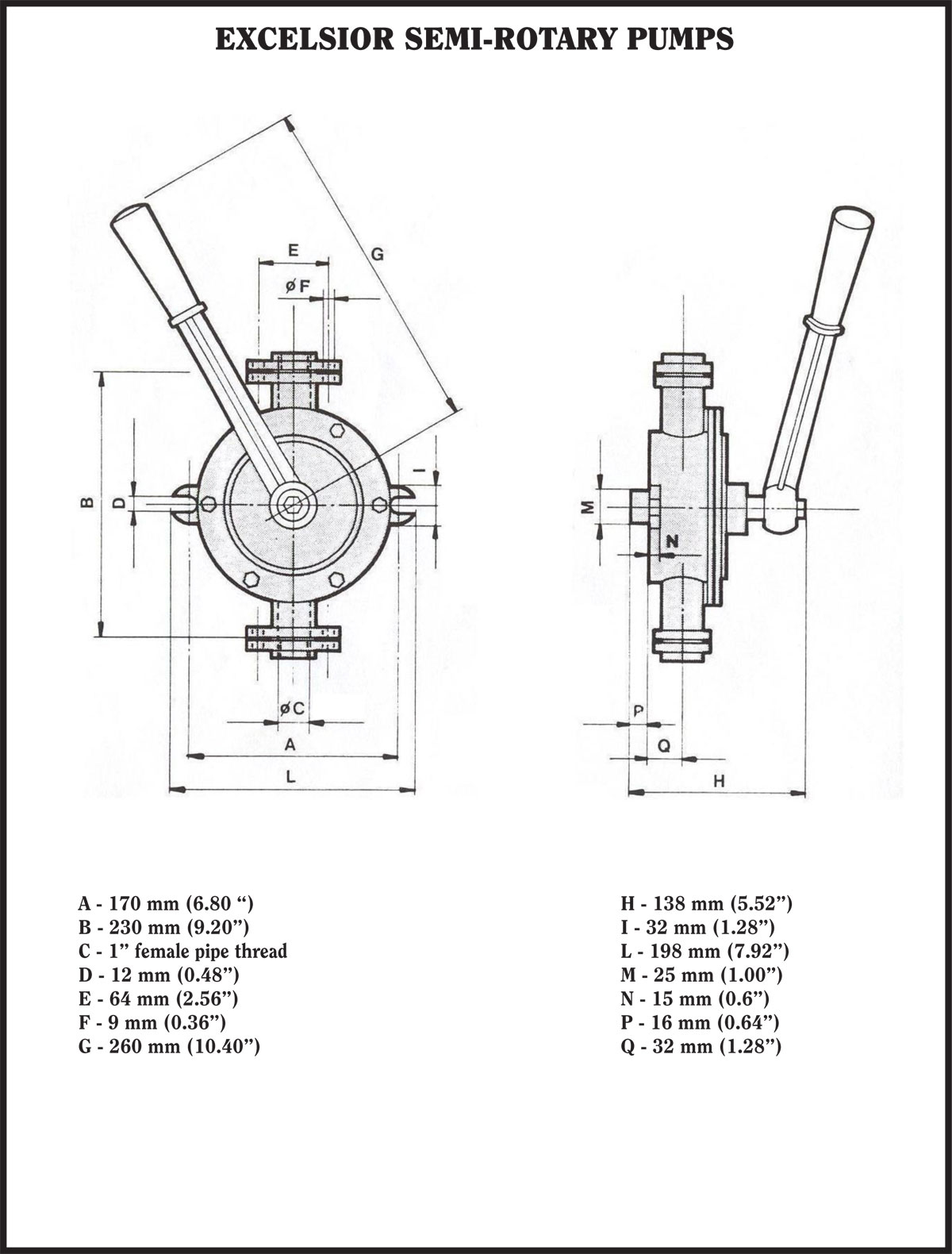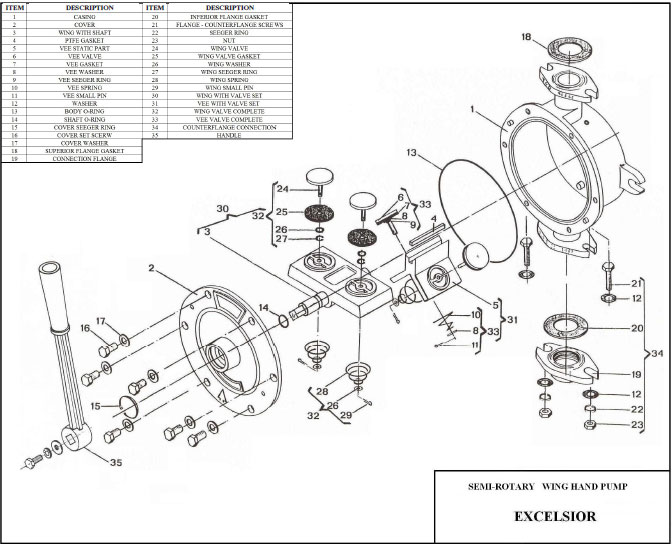 FEATURES:
This pump incorporates many original technical features which make it the best of its type.
Strong inlet flange, outlet flange and mounting lugs prevent breakage even when subjected to rough treatment.
The tapered internal body is a unique design which assures automatic settlement of the wings, thus guaranteeing smooth efficient operation for many years.
Each pump is tested to a suction lift of 7 meters of water and 20 meters of discharge head.
CAUTION: Pumps used for water must be protected from internal rust whenever they will be unused for extended periods of time. Mineral oil (U.S.P. heavy - sold in pharmacies) is non toxic and can be poured in the discharge port for this purpose.
SPECIFICATIONS:
Weight: 6 kg (13.2 lbs.)
Capacity: 6.5 G.P.M (30 L.P.M.) at 55 double strokes per minute
Plumbing Connection: 1" female pipe thread
Maximum Discharge Pressure: 37.5 P.S.I.
Maximum Discharge Height: 25 m (82 ft.)
Maximum Suction Lift: 7 m (22 ft.)*
(this distance reduces with altitude - see chart below)
SUCTION LIFT CHART

ALTITUDE
SUCTION LIFT
Sea Level

22.0 ft.

1000 ft.
20.8 ft.
3000 ft.
18.4 ft.
5000 ft.
16.0 ft.
7000 ft.
13.6 ft.
9000 ft.
11.2 ft.
Suction lift is the vertical distance from the pump to the surface of the water.
DIMENSIONS:
| | |
| --- | --- |
| D - 170 mm (6.8") | a - 145 mm (5.8 ") |
| b - 60 mm (2.4") | i - 10 mm (0.4") |
| k - 170 mm (6.8") | v - 230 mm (9.2") |
| l - 200 mm (8.0") | o - 13 mm (0.5") |
| p - 360 mm (14.4") | u - 30 mm (1.2") |
| c - 75 mm (3.0") | d - 9.5 mm (0.4") |
RESIDENTIAL USES:
Used in locations where there is no electricity
Makes an excellent emergency backup to an electric pump during a power failure (see below)
Will pull water through a submersible pump
Will pressurize a tank so there is water at the taps
See the Specifacations section above for capabilities
INDUSTRIAL AND MARINE USES:
Excelsior E series pumps meet all major European industrial standards and have numerous industrial applications.
They can be used:
to transfer clear light fluids in the marine, petrochemical, construction, agriculture and automotive industry
to handle fluids up to 80 degrees C. (176 degrees F.)
as manual bilge pumps in commercial ships
as a completely reliable backup to an electric pump